This June marks the 50 year anniversary of the Mississippi Summer Project better known as Freedom Summer.  Organized by the Council of Federated Organizations, which included four major civil rights organizations (SNCC, CORE, NAACP and SCLC); the campaign launched in June of 1964, with the goal of registering as many African American voters who had been historically excluded from voting in Mississippi.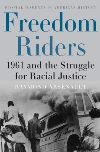 Building upon the work of local civil rights leaders in Mississippi, Freedom Schools, Freedom Houses, and community centres were set up in small towns throughout the state.  Southern states like Mississippi had successfully disenfranchised most African Americans and many poor whites by passing state constitutions, amendments and other laws that imposed burdens on voter registration: charging poll taxes, requiring literacy tests administered subjectively by white registrars, making residency requirements more difficult, as well as record keeping to document required items. This form of disenfranchisement began in 1890 and was in effect until 1960.
Approximately 1000 volunteers were recruited from college campuses across the country, drawing standing ovations for braving the routine violence perpetrated by police, sheriffs, and others in Mississippi.  Freedom Schools were held in churches, on back porches, and under the trees of Mississippi. Students ranged from small children to elderly adults, with the average age around 15. Most of the volunteer teachers were college students
Although the Freedom Summer is believed to have not registered as many voters as they hoped for, the impact on the Civil Rights Movement was significant. By capturing national attention, the Freedom Summer helped dismantle laws that enforced the isolation and repression of African Americans in the south.  News media outlets began to report the persecution of black voters in the Deep South and the dangers endured by black civil rights workers.
The passage of the 1965 Voting Rights Act helped to provide some racial progress in the South, especially in Mississippi.   The passage of this federal law, provided for federal oversight and enforcement to facilitate registration and voting in areas of historically low voter turnout. Mississippi drew special attention because the state had the highest percentage of non black voters registered in the south.
Despite U.S. Supreme Court rulings and challenges that were needed to further enforce this legislation, African American voting privileges in Mississippi increased during the 1980s and 1990s.
If you would like more informationon the Civil Rights Movement, the 2nd Air Division Memorial Library has a good collection of oral history, historical accounts and personal biographies for you to read or borrow.
Please go to our online catalog  or stop by the Memorial Library where you can find all these books and more on display for reading pleasure!