We have many fantastic short story collections here in our fiction section in the Memorial Library. Here's just a few of our favorites, chosen from select new books in stock: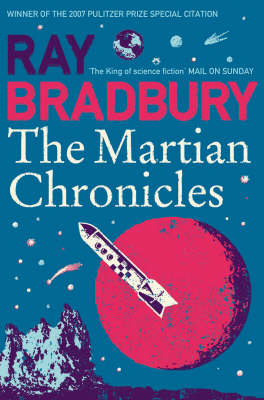 The Martian Chronicles (Ray Bradbury)
Is this a short story collection,  or a novel told in fragments? Maybe a combination of both? Either way you read it, Ray Bradbury's The Martian Chronicles is a science fiction classic. These stories follow the colonization of Mars over the course of several decades, focusing mainly on the relationship between the aboriginal Martians and newly-arrived humans. By echoing 19th-century American frontier narratives, Bradbury uses the lens of science fiction to comment on contemporary themes like immigration, technology, and colonization.
Recommended story: "There Will Come Soft Rains"
This story is actually set on Planet Earth, but paints a memorable picture of post-nuclear war devastation, especially through the haunting use of the titular poem by Sara Teasdale.
Where I'm Calling From (Raymond Carver)
Raymond Carver is arguably one of the most acclaimed American short story writers, famous for his minimalist, Hemingway-esque style (a style that was controversially influenced by his infamously ruthless editor Gordon Lish). Where I'm Calling From was published in 1988 and is a compilation of stories from all of Carver's collections, personally selected by Carver himself. Carver's writing often focuses on themes like alcoholism, loneliness, masculinity and the struggles of lower-middle class, ordinary people.
Recommended story: "A Small, Good Thing"
This was a tough choice (so many strong contenders to choose from!), but ultimately, this tale ends up taking the cake as one of Carver's finest. "A Small, Good Thing" takes place on a child's birthday, a day that unexpectedly ends in tragedy. A retelling of a story Carver published in an earlier collection, "A Small, Good Thing" is a memorable tale of misunderstandings and missed connections, focusing on the unexpected relationship that forms between the child's parents and a bad-tempered baker.
Complete Stories (Flannery O'Connor)
Another classic collection, Flannery O'Connor is a short story writer from Georgia, famous for her dark, grotesque style. Her Complete Stories won the 1972 U.S. National Book Award for Fiction (a rarity for a story collection). O'Connor was known for evoking Catholic themes in her writing, and for her use of jarring, unexpected violence. Overall she completed more than two dozen short stories in her lifetime, despite her long-term battle with lupus. She was also well-known for her fondness for raising peacocks, and appeared on television at age six with her pet chicken that she'd trained to walk backwards.
Recommended story: "A Good Man is Hard to Find"
One of O'Connor's most acclaimed tales, this story follows a family on a road trip from Georgia to Florida, and their unexpected encounter with a dangerous criminal on the run. Narrated in third person from the point of view of the well-meaning yet ultimately irritating grandmother, "A Good Man is Hard to Find" is famous for its controversial twist ending. Interestingly enough, it has inspired songs by two different American singer-songwriters: Bruce Springsteen and Sufjan Stevens.
Tenth of December (George Saunders)
Winner of the inaugural Folio prize in 2014 (a huge testament to the contemporary popularity of short story collecti0ns), Tenth of December is a great place to start for those unfamiliar with George Saunders' singularly unique (and at times disturbing) writing style. Before writing fiction, Saunders worked as geophysical engineer and with an oil exploration crew in Sumatra, two jobs that influenced his often disorienting use of language. His melancholy yet humorous tone has often been compared to Kurt Vonnegut and Grace Paley, two other classic American short story writers.
Recommended story: "The Semplica Girl Diaries"
Originally published in The New Yorker magazine, "The Semplica Girl Diaries" is narrated in a diary format reminiscent of Adrian Mole. Set in a not too distant dystopic future, it follows a middle-class father and his struggle to keep up with his rich neighbors, which ultimately culminates in him acquiring some fairly unusual front lawn adornments. Surreal and dreamlike, this story is a great example of Saunders' infamously strange, modern style.
If you're seeking further literary fulfillment that extends beyond this blog post, feel free to book a spot on our upcoming Great American Poems event. Spaces are filling up fast though, so it's best to do it quick!